The Week in 3D Printing – Jan 16th to Jan 20th
With CES 2012 behind us, the third week of 2012 seemed like a week of reflection. We found many articles referring to the moments of the event in Las Vegas while information was gathered on the buzz that it created. From an interesting discussion between 3D Systems and MakerBot, to offering our designers the possibility to put their items up for sale… it's all in this year's third week of 3D Printing.
MakerBot creates an awesome Stop Motion Video featuring their Replicator
After unveiling the MakerBot Replicator at CES 2012, Bre Pettis and his creative team took their time to bring together a wonderfully executed stop motion video with 3D printed characters. Great fun guaranteed!
CNET discusses the Future of 3D Printing with 3D Systems' Cubify and the MakerBot Replicator
Another ripple effect from CES was the video interview that CNET's Rafe Needleman made with guests MakerBot CEO Bre Pettis and Cathy from 3D Systems. Both the Cubify & Replicator were present and compared. (make sure to check the the playlist on your right in case the video does not start)
Fabbaloo highlights the 3D Printing Buzz increase during & after CES 2012
With the close of the 2012 Consumer Electronics Show it seemed like a good time to check the buzz level of 3D printing and so that's why Fabbaloo decided to have a look at the numbers.
i.materialise offers their designers the ability to sell their items on the website's gallery
It was something that designers were waiting for and so i.materialise delivered. From now on, anyone can design, showcase and sell their 3D printed creations on the website's gallery.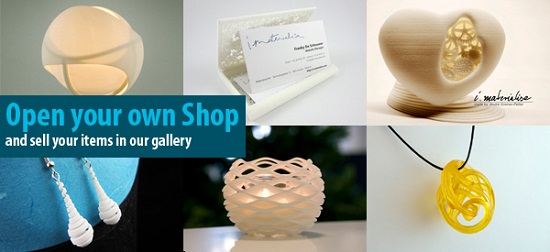 Now you can also sell your items in our gallery
A new 3D Printer with MakerSilde
Barton Dring (bdring) of Buildlog.Net fame recently designed a 3D printer based on the multifunctional MakerSlide beams.
So there you have it ladies and gents… another week, another story to tell. Make sure to check back with us next week to find out what the fourth week of 2012 has in store for us.
Excerpt from: The Week in 3D Printing – Jan 16th to Jan 20th
Excerpt from: The Week in 3D Printing – Jan 16th to Jan 20th
Comments
comments